So what could inspire you to wrap your car? At a first glance, it seems to be a bit of an unusual idea. You might imagine that it will be very difficult to either have done or maintain. In times gone by car, wrapping was something reserved for business purposes. People would get their business car or van wrapped as a means of advertising their company or service.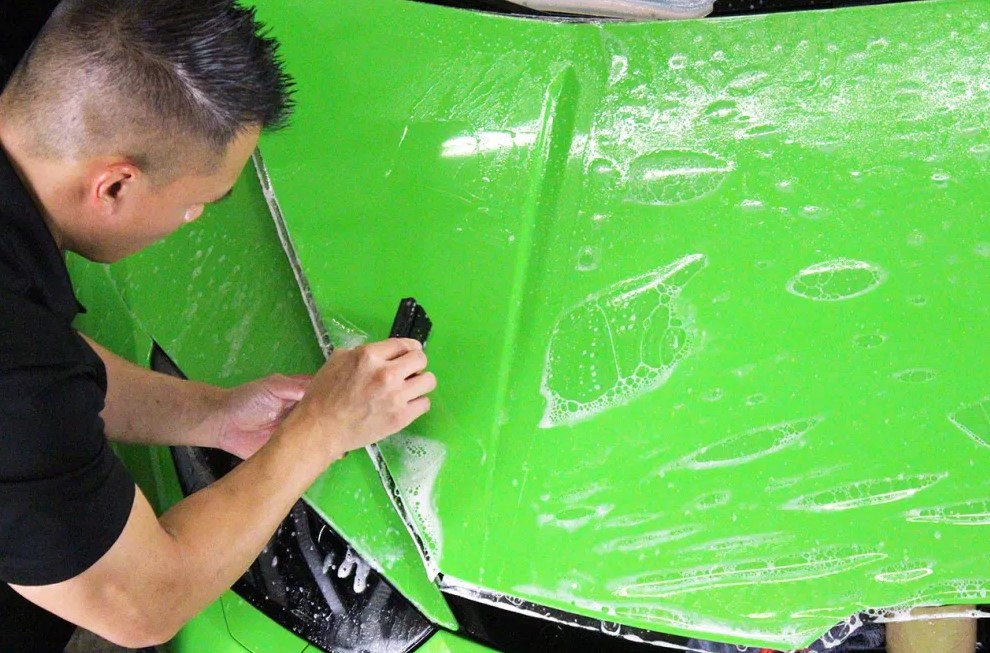 Sometimes people might volunteer to have their own car wrapped to advertise someone's business, in return for payment. This can be quite a money-spinner. Adverttu will pay someone up to £150 per month for having an advertisement on their car.
Average Cost To Wrap A Car
Whilst car wrapping is still often carried out for this purpose, these days people are also likely to consider getting their car wrapped to give it a personal touch. It's certainly a way of standing out from the crowd.
When deciding to go ahead, car wrap cost is an important factor to take into account, no pun intended. This depends on the sort of car wrap you want and also on the size and model of your car. It's easy to research costs, using a cost comparison site such as Always Review.
Car wrapping installation tools on the vehicle.
As discussed, costs vary but according to Checkatrade, the average cost of wrapping a car is around £3,000. For a smaller car, it is likely to cost in the region of £1,000 – £2,300. As a general rule, the bigger the car, the more it is going to cost to wrap. If you wanted to wrap a van, prices start at around £5,000.
When calculating the cost of wrapping your vehicle, other costs to take into account include the texture of the wrap, the type of finish you opt for, and the sort of designs your want. Additional charges are typically made if you want to have your bumper, sills, or spoilers wrapped as well. You might also be advised to purchase some aftercare products, to protect your newly wrapped car from damage and keep it in optimum condition.
Whichever way you look at it, car wrapping can be an expensive business, although arguably it's a cost-effective marketing tool and will help your business to stand out.
What Is A Car Wrap
So, what is a car wrap? Essentially a car wrap is a cover coating your vehicle, which has a unique design. Car wraps often have writing on them if they are advertising a business or service.
Car wraps are usually made from vinyl with adhesive backing, although there is some variance. Several factors make a significant difference regarding the durability and overall quality of the car wrap.
For example, Sunrise Signs use wraps made from PVC, with added UV absorbers and heat stabilizers. This makes them less susceptible to damage and increases their longevity.
There is also another type of car wrap, known as cast vinyl. Here, once the car wrap ingredients are mixed, the material is placed on a casting sheet and baked. Cast vinyl has the distinct advantage of being shrink resistant.
Other types of car wraps include:
vinyl gloss
chrome
matte
carbon fiber
All of these car wrap types have their own advantages and disadvantages.
Benefits Of Wrapping Your Car
There are a lot of plus sides to deciding to buy a car wrap. If you are getting your car wrapped to advertise your growing business, it can be a quick, easy, and relatively heap way of advertising your business. Indeed, studies have shown that car wraps are viewed between 32,804 and 75,897 times a day.
Furthermore, a study by OAAA showed that vehicle advertisements can boost name recognition by 15 times more than other advertising media. If you have your car wrapped, you are not limiting your advertising to any particular demographic.
A sports car with commercial advertising displayed.
If your business needs change, for instance, if your company moves premises or changes its name, it's never going to be too time-consuming or costly to change the details as needed, if your car is wrapped.
In addition, if your business grows and you need any additional vehicles, a car wrap is easy to duplicate, and you will likely be able to negotiate some sort of deal if you are having more than one vehicle wrapped.
However, if you are looking to get your car wrapped for personal aesthetic reasons, it still has several advantages. Firstly, it is in effect a cheap and easy way of upgrading your car. It's far easier and less time-consuming than choosing to trade your car in or sell it, to buy a new one.
Whilst a new car is likely to set you back several thousand pounds, as a comparison, having your car wrapped is likely to cost you somewhere between £1,00 and £5,000, depending on some of the factors discussed above. In terms of cost, it's a no-brainer.
Furthermore, it is easy to change your car wrap if for whatever reason you decide to do so. From a practical point of you, if you change your car wrap or decide to have it removed completely, is it likely to only take one or two days, meaning that you won't be without the use of a car for very long.
Car wrapping specialist putting vinyl foil or film on car.
In addition, it is relatively easy to get individual parts of your car re-wrapped if needed, for instance, if part of the car wrap gets damaged. Overall it's a cost-effective way of giving your car a lease of life, without the upheaval of changing your vehicle.
Having your car wrapped can protect your paintwork. The car wrap can act as an extra protection layer against scuffs and scratches. Protecting your paintwork can help preserve the resale value of your car if you were to decide to sell it at a later date.
Also, it's always good to know that you are less likely to have to pay out for or undertake paint repairs yourself, potentially saving you time and money.
Disadvantage Of Wrapping Your Car
Unfortunately, there are a couple of downsides if you decide to get your car wrapped. The quality of your car wrap can depend quite significantly on your budget. If you are a new business and short on funds, it can be quite a stretch to afford to pay out for good quality, durable car wrap.
It might seem like quite a big outlay in the early stages of setting up your business, primarily cause there is no option other than to pay someone to do it for you. A lot of other marketing methods can be self-taught. However, you will probably end up paying for some other form of advertising or help with your marketing at some point.
Car wrapping with branding for advertisement.
If the car wrap suffers any surface damage, the original vehicle color can seep through. Obviously, this will make a big difference to how good your vehicle looks and could be particularly problematic if your wrapped car was being used to promote your business.
However, the chances are that this wouldn't be too expensive to rectify as it might be that you can just get one part of your car rewrapped as necessary. It could nevertheless be a recurring problem.
If you decide to get a car wrap that drastically changes the color of your car, you will need to notify both the DVLA and your insurance provider. It goes without saying that this can be a bit of a laborious process and your insurance premium could change. When you take this into account, having your car wrapped might not seem to be worth its while. This is especially true if you are only planning on keeping your car wrapped for a relatively short time.
Do I Need To Wrap My Car?
So, is getting a car wrap for you? Only you can answer that question, as it depends largely on your individual circumstances. This includes your reasons for wanting to have your car wrapped and more importantly your budget.
If after careful consideration, you still think it's the right thing to do, your best bet is to carefully carry out some research and think specifically about what car wrap design your want.
Car wrapping professional consulting a client about vinyl films on car.
Moreover, it's a good idea to read reviews and get recommendations from other people who have had their cars wrapped. If you are planning to have your car wrapped for business reasons, it's also worthwhile assessing what sort of car wraps, if any, your competitors have, both locally and on a larger scale. You also need to consider whether the design you have in mind would work for your particular vehicle.
Is It Cheaper To Paint Or Wrap A Car?
Many car owners want a new color for the vehicle. Painting a car can take time and a little bit of expertise. Take the car to an auto body shop for the best results. That is a smart move and people want it to work. But wrap can also help change the color of the car.
The car is going to be a great asset to the owner. They want to find the most cost-effective solution for the work. That process can find right in with a working budget too.
Talk to the body shop about their paint solutions. They have pros ready to get the job done in time. They can give a quote which will help the new customer a bit. They can decide on their own and get right to work. That is a smart way to change the color of the car at the shop.
How Long Does A Car Wrap Last?
Car wraps are a terrific alternative if you've really desired to customize your car but wouldn't want to invest in a permanent paint job. The stick-on decals allow users to change the pattern, color, or finishing of your car without affecting the paint underneath, allowing you to remove the wrap and return it to its original state.
A car wrap can help you save money on maintenance and repairs by shielding the exterior of your vehicle from flying road debris that could harm the paintwork. Despite the fact that a car wrap appears to be the ideal combination of design and protection, it is vital to examine the cost and if it is beneficial as well as how long does a car wrap lasts.
Approximately, a car wrap would last up to five to seven years depending on the circumstances. Also, depending on the quality and good maintenance, your car wrap should last, as mentioned, between five to seven years.
Conclusion
In summary, car wrapping can be very advantageous. Despite the sophisticated marketing techniques used today, I would still argue that car wrapping comes into its own as a marketing tool, partly because it's relatively cheap.
If you compare the cost of wrapping your car to the costs associated with building a website or employing someone to increase your company's social media presence, car wrapping is much more economical.
Also, if you use your car wrap as a marketing asset, it isn't limited in any way. It's an easy way of spreading your marketing across different social groups in various locations.